This week at the BIEMH/ADDIT3D exhibition and coinciding with its second anniversary, the Basque engineering company MADIT has acquired the fourth Renishaw metal additive manufacturing system. On this occasion, the company's founders have opted for a RenAM 500Q system.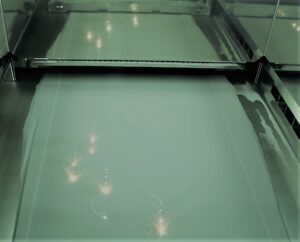 The RenAM 500Q is a high-productivity multi-laser additive manufacturing system that features four 500W lasers, each capable of working on the entire build area, achieving significantly higher build rates than single-laser systems. In addition, RenAM 500Q features an automatic powder management system, dual safe-change filters and an intelligent inert gas flow system, characteristics that guarantee quality and consistency throughout the whole manufacturing process.
After investing in its three previous systems, this new acquisition will complement MADIT's existing technology and substantially increase its manufacturing capacity. At the same time, it will strengthen MADIT's position in the growing metal additive manufacturing market while bringing it closer to short and medium series production with shorter manufacturing times.
This acquisition follows MADIT's strategy to dedicate each machine to one material, thus avoiding powder changeovers. This assures the quality and responsiveness of the company. This fourth system will be dedicated to titanium, another material in MADIT's expanding portfolio.
MADIT uses all its resources from the design to the post-processing of the parts produced to provide integral solutions optimizing the results and assuring total control throughout the process.
For more information about Madit, visit www.maditmetal.com
To find out more about Renishaw systems, visit www.renishaw.es/AM





by